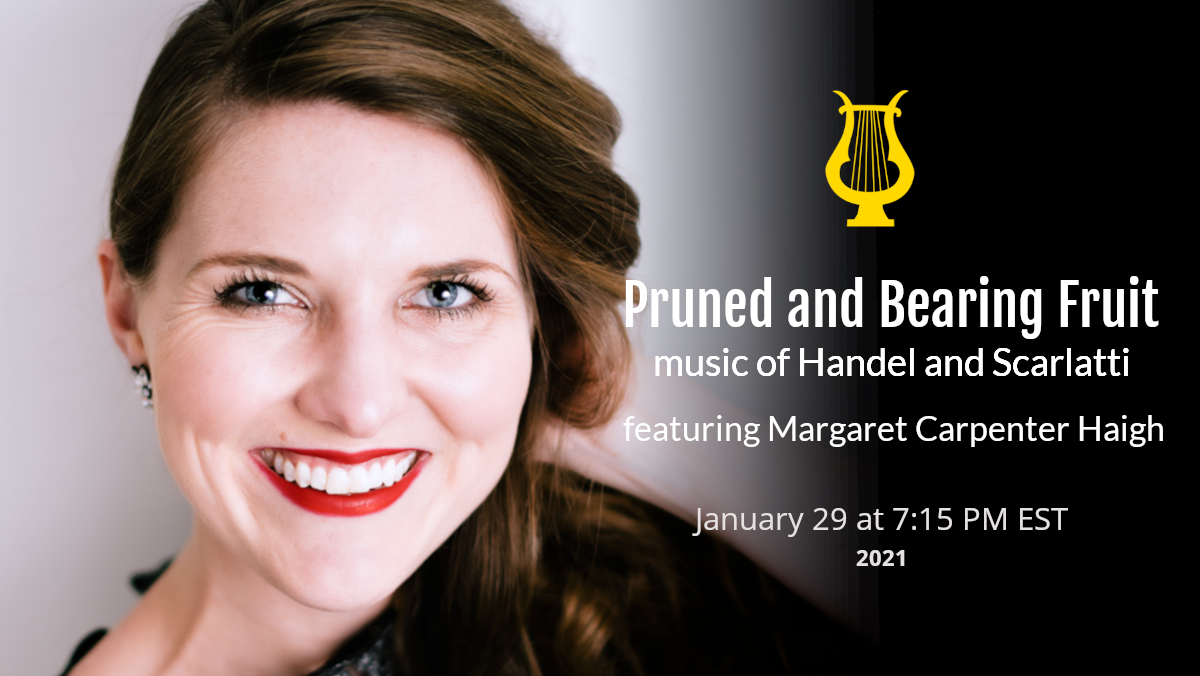 The Vision
The Program
Performers
Join us online for our January Performance!
sponsored by BY Wound Care Internal Medicine
From the old normalcy, to pleas for peace; from redemption to the establishment of a new normal. The Academy's January 2021 performance, featuring Margaret Carpenter Haigh, follows the path of the pandemic while looking to older poetic and musical sources. Music by Handel, Scarlatti, Castello, and Merula.
Ask questions at anytime during our presentation on our Discord channel: https://discord.gg/z9PjgvY. You will be asked for your name (nickname or real name), your email, and a password. By registering, you agree to Discord's Terms of Service and Privacy Policy.
topic: bearing fruit, Baroque cantata, Baroque oratorio, Marian hymn, instrumental, violin, soprano
Introduction
Ayres
composer: Nicola Matteis (1670–1713)
soloist: Chloe Fedor, violin
Trio Sonata in D Major, HWV 397
III. Musette Andante Allegro
II. Allegro Adagio
composer: George Frideric Handel (1685–1759)
"Ah! che troppo ineguali", HWV 230 (1708–9)
composer: George Frideric Handel (1685–1759)
librettist: anonymous
soloist: Margaret Carpenter Haigh, soprano
notes: fragment, cantata for the Blessed Virgin Mary
Trio Sonata in E Major, HWV 394
III. Adagio
composer: George Frideric Handel (1685–1759)
excerpt from Agar et Ismaele esiliati (1683)
composer: Alessandro Scarlatti (1660–1725)
librettist: Giuseppe Domenico de Totis (1644/5–1707)
soloist: Margaret Carpenter Haigh, soprano
Sonate concertate in stil moderno, libro primo (No.2)
composer: Dario Castello (first half of 17th century)
Il Primo Libro de motetti e sonate, Op. 6/20
"Favus distillans"
composer: Tarquinio Merula (1594/5–1665)
text: responsory for St. Ursula and Companions, likely for Matins
soloist: Margaret Carpenter Haigh, soprano
Closing Remarks

Margaret Carpenter Haigh
, soprano
Jeremy Rhizor, director and violin
Chloe Fedor, violin
Arnie Tanimoto, viola da gamba
Adam Cockerham, theorbo
Elliot Figg, organ
Kamel Boutros, sound and video engineer
Soloist Biography: Margaret Carpenter Haigh
Praised as "fiery, wild, and dangerous" (Classical Voice North Carolina) with "a talent for character portrayal" (Chicago Classical Review), soprano Margaret Carpenter Haigh captivates audiences with her "flawless intonation" and "perfect vocalism" (CNVC). Her dazzling technique and formidable skills as a collaborative artist shine in performances of repertoire spanning from the Renaissance and Baroque to the modern day. She can be heard regularly with some of the nation's premier ensembles including The Choir of Trinity Wall Street, Handel and Haydn Society, Bach Akademie Charlotte, and Apollo's Fire. She is co-artistic director of L'Académie du Roi Soleil, with which she has performed in venues across the United States and the United Kingdom. Margaret holds degrees from Case Western Reserve University; the University of Cambridge, where she was a Gates Cambridge Scholar; and the University of North Carolina at Greensboro. She is active as an educator, teaching voice and leading workshops nationwide on physical gesture for singers. More at www.margaretcarpenterhaigh.com.