Leadership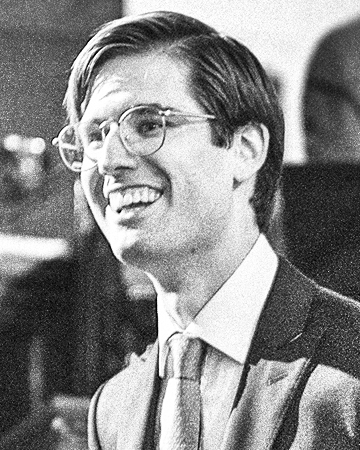 Jeremy Rhizor
artistic director & violin
Jeremy Rhizor is one of the world's foremost interpreters of the Baroque oratorio repertoire and is the driving force for its revival in the United States. Along with reviving the music of oratorios, Rhizor has reconstructed the format of oratorio performances by retaining the lecture or sermon between musical halves in large-scale two-part oratorios. As the founder and artistic director of the Academy of Sacred Drama, Rhizor built an organization inspired by Baroque academies into an institution that champions the performance and research of sacred drama. Noted for playing "virtuosically but with fluid grace" by The New York Times, Rhizor is a core member of Aureas Voces in Nova Scotia and performs with early music ensembles throughout North America on the violin. He will be the guest concertmaster of the Indianapolis Baroque Orchestra for a Naxos Records recording in the 2021–2022 season. Rhizor lives in Croton Falls, NY.
Kate Bresee
manager & Sacred Drama Journal editor
Kate Bresee was born and raised outside of Richmond, Virginia. She attended Eastern University, a small Christian liberal arts college outside of Philadelphia, where she studied the great books as a member of the University's Templeton Honors College and received a degree in Philosophy. While at Eastern, Kate was a founding co-editor of the Eastern-based undergraduate academic journal, Adorans, which explores topics relating to philosophy, theology, science, and culture. After graduating in 2014, Kate began a doctoral program in philosophy at Fordham University in New York City. While at Fordham, Kate has continued to explore her passion for editing through an assistantship with the ancient and medieval studies journal Traditio, which is housed at Fordham and printed by Cambridge University Press.
Guest Speakers
Marc Bellassai
guest speaker & harpsichord
Marc Bellassai has degrees from the Oberlin conservatory [BMus '85, Harpsichord], Indiana University [MMus '89 and Artist Diploma] and, as a Fulbright IIE scholar from 1994–6, studied at the Civica Scuola di Musica and the instrument collection of the Castello Sforzesco in Milan, Italy. He was a student of harpsichordists Lisa Goode Crawford, Elisabeth Wright, and Laura Alvini and now performs with a number of ensembles from Baltimore to New York. His interests include early keyboard performance practice, basso continuo, organology, art history, and the music and literature of the Italian sixth and seventh centuries. He currently teaches harpsichord, art history, and directs the Early Music Ensemble at Towson University.
Charles Weaver
guest speaker
Charles Weaver is on the faculty of the Juilliard School, where he teaches historical plucked instruments and Baroque music theory. He was music director for Cavalli's La Calisto with New York's Dell'Arte Opera in summer 2017, when The Observer remarked on "the superb baroque band led by Charles Weaver . . . it was amazing to hear what warm and varied sounds he coaxed from the ensemble." He has served as assistant conductor for Juilliard Opera and has accompanied operas with the Yale Baroque Opera Project and the Boston Early Music Festival. As an orchestral musician, he has performed with the New York Philharmonic, the Philadelphia Orchestra, and the Virginia Symphony. His chamber appearances have included Quicksilver, Piffaro, Chamber Music Society of Lincoln Center, the Folger Consort, Apollo's Fire, Blue Heron, Musica Pacifica, and others. He also works with the New York Continuo Collective, an ensemble that mounts workshop productions of seventeenth-century vocal music. He has taught at the Lute Society of America Summer Workshop, the International Baroque Institute at Longy, and the Madison Early Music Festival. He is the schola director at St. Mary's Church in Norwalk, Connecticut, and he is pursuing a doctoral degree in music theory at the City University of New York.
Movement and Mime
Tony Lopresti
movement director and mime
Tony Lopresti is Mime Director of the Festival Musica sull'Acqua on Italy's Lake Como where he teaches classical mime and creates original theatrical interpretations of Festival music, including Igor Stravinky's L'Histoire du Soldat, in which he also plays the Soldier. He co-founded MuMoMusement—a new fusion of music and movement—with Festival Artistic Director and Italian violinist Francesco Senese. Tony and Francesco created Apocalypse Man, a solo physical interpretation of Bela Bartók's Sonata for Solo Violin, which premiered in L'Aquila, Italy and later at the Mantova International Chamber Music Festival. Tony was a principal performer with the New York Pantomime Theatre under the direction of Moni and Mina Yakin presenting original full-length works at Carnegie Hall and Lincoln Center.
Education
Elisabeth K. Pace
lecturer
Dr. Elisabeth K. Pace specializes in Music Analysis and the History of German Music Theory during the late Renaissance and Baroque eras. She has presented invited lectures and colloquia at various universities including the Sorbonne, Harvard, and Yale.
Translators (Italian to English)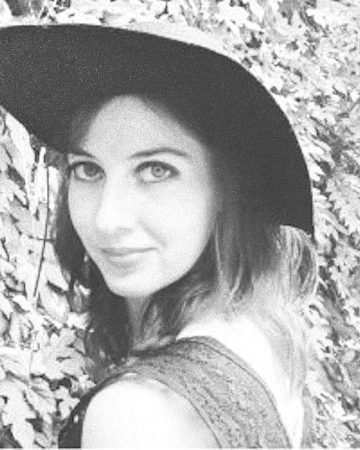 Mara's background is in the performing arts and classical music, with additional extensive study of European languages and literature. As a translator of Italian to English, her experience ranges from sports news, journalism and PR material for numerous cultural and artistic organizations to short stories, literature and narrative nonfiction by the most current and contemporary authors active in Italy today. Other interests include sunny days, coffee, cats, 20th century history and, increasingly, punk music.
Lucy T. Yates, internationally acclaimed soprano and keyboardist, teaches Italian grammar and poetics for Bel Canto at Caramoor/Teatro Nuovo and for dell'Arte Opera Ensemble. She serves as language coach and dramaturg for the New York City Opera, and in 2017 joins the coaching staff of UCLA. Miss Yates holds a BA in piano and English from UNC-Chapel Hill and an MM in voice from the Manhattan School of Music. She is a regular panelist on the Metropolitan Opera Radio Quiz.
Singers
Andrew Leslie Cooper
countertenor
Andrew Leslie Cooper enjoys a multifaceted and multinational career as a countertenor, conductor, and keyboardist. The 2019-20 season represents his first as the new second countertenor in the acclaimed early music group The Gesualdo Six. With them, he tours domestically and internationally and records under contract with Hyperion. Other recent and upcoming ensemble engagements include Tenebrae, Gallicantus, Sansara, Ex Cathedra, and the Voces8 Foundation Choir, to name a few. Also active as a soloist, Andrew's voice has been heard alongside Academy of Ancient Music, Academy of Sacred Drama (NYC), BWV: Cleveland's Bach Ensemble (Ohio), and several choral societies around Kent. Andrew is Principal Lay Clerk at Rochester Cathedral and regularly deputises in other ecclesiastical choirs, most frequently at Her Majesty's Chapel Royal at Hampton Court Palace, Canterbury Cathedral, and Westminster Cathedral. Before 2018, Andrew was based in the United States, where he was active with ensembles such as TENET, the Bach Choir of Holy Trinity NYC, Westminster Choir, Spoleto Festival USA Chorus, the Philadelphia Symphonic Choir, and more.
Margaret Carpenter Haigh
soprano
Praised as "fiery, wild, and dangerous" (Classical Voice North Carolina) with "a talent for character portrayal" (Chicago Classical Review), soprano Margaret Carpenter Haigh captivates audiences with her "flawless intonation" and "perfect vocalism" (CNVC). Her dazzling technique and formidable skills as a collaborative artist shine in performances of repertoire spanning from the Renaissance and Baroque to the modern day. She can be heard regularly with some of the nation's premier ensembles including The Choir of Trinity Wall Street, Handel and Haydn Society, Bach Akademie Charlotte, and Apollo's Fire. She is co-artistic director of L'Académie du Roi Soleil, with which she has performed in venues across the United States and the United Kingdom. Margaret holds degrees from Case Western Reserve University; the University of Cambridge, where she was a Gates Cambridge Scholar; and the University of North Carolina at Greensboro. She is active as an educator, teaching voice and leading workshops nationwide on physical gesture for singers. More at www.margaretcarpenterhaigh.com.
Soprano Madeline Apple Healey is known for her "gorgeous singing" (Washington Post) and "fetching combination of vocal radiance and dramatic awareness" (Cleveland Plain Dealer). This season brings debuts with Publick Musick, Pegasus Early Music, Portland's Oratorio Chorale, and a remounting of Ellen Reid's Pulitzer Prize-winning p r i s m at the Kennedy Center. Recent engagements have included appearances at Festival Oude Muziek Utrecht, Aldeburgh Festival/Snape Proms, LA Opera, premieres at National Sawdust, Lincoln Center, and Spoleto Festival USA. Specializing primarily in early and contemporary repertoire, Madeline is passionate about polyphony and loves working on music that challenges the construct of beautiful sound. She is a member of the GRAMMY-nominated Choir of Trinity Wall Street and appears internationally as a soloist and ensemble singer. A native of Cleveland, OH, she now resides in Brooklyn, NY.
Michael Jones performs nationwide as a soloist and chamber musician. He has appeared as a professional tenor with some of the nation's finest choral ensembles including the GRAMMY-award-winning group The Crossing, GRAMMY-award-winning group Conspirare, Santa Fe Desert Choral, Apollo's Fire, Variant 6, ekmeles, Choral Arts Philadelphia and Madison Choral Project, Chicago's Music of the Baroque, William Ferris Chorale, Grant Park Opera Chorus, the Bridge Ensemble, Vocal Arts Ensemble of Cincinnati, and Chorosynthesis. Michael has recorded on Parma, Albany, World Library Publications (WLP) and GIA. He has performed on five Downbeat Award-winning recordings. Michael studied at the Cincinnati Conservatory of Music for his Bachelors in jazz trumpet and Northwestern University's Bienen School of Music for his Masters in jazz trumpet.
Sara MacKimmie is a Washington, DC-based soprano who specializes in ensemble singing and early music. Recent highlights include Vivaldi's Gloria with the Lansing Symphony Orchestra, many oratorios with the Academy of Sacred Drama in New York, Couperin's Leçons de ténèbres with the Denver Early Music Consort, music from the court of Henry VIII with Mountainside Baroque, and several engagements with New York Baroque Incorporated, with whom she has sung at the Metropolitan Museum of Art and for the San Diego Early Music Society. She also performs with Kinnara Ensemble, The Thirteen, the Washington Bach Consort, hexaCollective, and the Peabody Consort and sings weekly with the Choir of the Basilica of the National Shrine of the Immaculate Conception.
Clifton Massey
countertenor
Clifton Massey was raised on a steady diet of country and western, bluegrass, and other close-harmony singing in Dallas, TX. These early influences instilled a love of pure tone and ensemble work, leading to rich musical experiences in a variety of styles. He collaborates frequently with notable early-music ensembles such as the Philharmonia Baroque Orchestra, American Bach Soloists, Trinity Baroque Orchestra, and the American Classical Orchestra. Highlights of recent seasons include performing with pop icon Madonna at the Met Gala, modern premieres of Baroque-era oratorios with the Academy of Sacred Drama, and performing in the inaugural two month installation of Reich Richter Pärt at The Shed, a vibrant new venue in NYC. Clifton is an alumnus of the Grammy-award-winning group Chanticleer.
Daniel Moody has performed with the Atlanta Symphony, Les Violons du Roy, Philharmonia Baroque Orchestra in a duet concert with famed mezzo-soprano Anne Sophie von Otter, Apollo's Fire, Mark Morris Dance Group, and recently made his Carnegie Hall debut with Oratorio Society of NY and Off-Broadway debut in a production of Hans Christian Andersen. Upcoming engagements include: Minnesota Orchestra, "Desire" by Hannah Lash at the Miller Theater at Columbia University and Handel's Orlando. Mr. Moody has won awards from the Metropolitan National Council, George London Competition, Sullivan Foundation & Handel Aria Competition and is a graduate of Peabody Conservatory and Yale School of Music/Institute of Sacred Music.
Andrew Padgett
bass-baritone
Praised for his "powerful baritone and impressive vocal range" (Boston Music Intelligencer) and as a "musicianly, smooth vocalist, capable in divisions" (Opera News Online), bass-baritone and hurdy-gurdyist Andrew Padgett is an accomplished interpreter of both baroque and medieval vocal and instrumental music. Notable performances include his appearances under the baton of Masaaki Suzuki as the bass soloist in Bach's Mass in B Minor at the Esplanade Concert Hall in Singapore and as the bass soloist in Bach's Johannespassion at Alice Tully Hall at Lincoln Center, NYC, as well as his Alice Tully performance as Harapha in Handel's Samson directed by Nicholas McGegan. He has also been featured as a soloist with The American Classcal Orchestra, Dartmouth Handel Society, Virginia Symphony Orchestra, Brandywine Baroque, and Pegasus Early Music, among others.
Making her mark as an "especially impressive" (The New York Times) soprano, Australian/American Nola Richardson has won First Prize in all three major American competitions focused on the music of J.S. Bach. These honors have catapulted her to the forefront of Baroque ensembles and symphonies around the country, where she has been praised for her "astonishing balance and accuracy," "crystalline diction," and "natural-sounding ease" (Washington Post). Nola's 2019-2020 season will feature her debuts with the Seattle and Pittsburgh Symphonies, Philharmonia Baroque, Tenet (in concert with American violinist Hillary Hahn), and an appearance at the Leipzig Bach Festival 2020 as a soloist with the Bethlehem Bach Society. She will make her stage debut next summer at the Caramoor Festival in Rameau's Dardanus, directed by Julian Wachner and James Darrah. Nola is an Athlone Artist and is currently completing a DMA at Yale.
Tenor Corey Shotwell is a soloist and chamber musician specializing in music from the seventeenth and eighteenth centuries. Recent concert engagements include performances with Theatre of Voices at Carnegie Hall, the Shenandoah Valley Bach Festival, The Newberry Consort, Santa Fe Desert Chorale, Haymarket Opera Company, and the Bach Collegium of Fort Wayne. He has been a Young Artist Apprentice with Apollo's Fire and the Boston Early Music Festival, and most recently was the tenor fellow of the Virginia Best Adams Masterclass at the Carmel Bach Festival. A native of Michigan, he is currently pursuing an M.M.A. from the Institute of Sacred Music at Yale University.
Peter Walker
bass-baritone
Described as a "commanding" singer by a recent Boston Globe review, Peter Walker performs with the Handel + Haydn Society, Chapter House, GRAMMY-nominated Skylark Ensemble, Kuhmo Kamarimusiiki, Staunton Music Festival, Blue Heron, Pomerium, and GRAMMY-nominated Clarion Society Choir. Peter has presented lectures at Vassar College and the University of Virginia, and is a member of the Schola Cantorum at the Oratory of Saints Cyril and Methodius. He won the Overseas Class in the Lowland and Border Pipers' Society Competition in 2016, and is active as a researcher, transcriber, and arranger of music ranging from the Middle Ages to the eighteenth century.
Jonathan Woody
bass-baritone
Bass-baritone Jonathan Woody is an active performer of early and new music, in NYC and across North America. He has performed as a soloist with historically-informed orchestras such as Tafelmusik, Apollo's Fire, Boston Early Music Festival, Washington Bach Consort and New York Baroque Incorporated, and sings regularly with many ensembles including the Choir of Trinity Wall Street, the Clarion Music Society, and TENET Vocal Artists. Jonathan is also immersed in the world of new music and has premiered several major works including Ellen Reid's p r i s m, Ted Hearne's The Source, and Du Yun's Angel's Bone. In the last few years he has also been commissioned as a composer and has written for Lorelei Ensemble, Cathedral Choral Society of Washington DC, Handel & Haydn Society and the Uncommon Music Festival of Sitka, Alaska.
Instrumentalists
Early string specialist Dongmyung Ahn is a performer, educator, and scholar whose interests span from the twelfth to nineteenth centuries. She performs with the Sebastians, TENET Vocal Artists, Raritan Players, Pegasus, and Marginalia. She has played rebec in the critically acclaimed production of The Play of Daniel at the Cloisters. A dedicated educator, Dongmyung is the director of the Queens College Baroque Ensemble and has taught music history at Vassar College, Rutgers University, and Queens College. She received her PhD in musicology at the Graduate Center, CUNY and published an article on medieval liturgy in the Rodopi series Faux Titre.
Lewis R. Baratz is a recorder player, harpsichordist, ensemble director, and music historian with more than 20 publications including research articles, dictionary entries, critical editions, and a book chapter on music for the 15th through 18th centuries. Lewis has performed with the Academy of Sacred Drama, Bethlehem Baroque, Brandywine Baroque, The Queens Consort, Voices Chorale, Vox Ama Deus, and is founder and artistic director of La Fiocco period instrument ensemble. For three years he was host of the syndicate radio show "Well-Tempered Baroque." Lewis currently teaches recorder and harpsichord at Lafayette College, where he also conducts the Chamber Orchestra.
Early music artist Adam Cockerham specializes in theorbo, lute, and baroque guitar. Beginning his performance career as a classical guitarist, he then gravitated toward historical plucked strings, preferring the collaborative opportunities of chamber music from the 16th, 17th, and 18th centuries. As an accompanist and continuo player, Cockerham has performed with numerous ensembles in New York and San Francisco. He founded voice and plucked string duo Jarring Sounds with mezzo-soprano Danielle Sampson, and helped form chamber ensemble Voyage Sonique. Beyond chamber music, Cockerham concentrates on 17th-century Italian opera and has been involved in numerous modern world premiere performances with companies such as Innsbrucker Festwochen der Alten Musik and Ars Minerva. Cockerham is a doctoral candidate at The Juilliard School.
Lauded for her "lovely, plush, seductive tone" and described as "clearly gifted" (The New York Times), violinist Chloe Fedor is sought after across the country as a soloist, concertmaster, and chamber musician. She appears regularly with the Academy of Sacred Drama, the American Classical Orchestra, Apollo's Fire, Carmel Bach Festival, Clarion Music Society, Early Music New York, New York Baroque Incorporated, and Trinity Wall Street Baroque Orchestra, among others. In 2018, she joined the cast of Shakespeare's Globe on Broadway as the onstage Baroque violinist in​ Farinelli and the King. Chloe was one of ten Juilliard 2015 graduates to receive the Career Advancement Fellowship.
Elliot Figg is a keyboardist, conductor, and composer from Dallas, Texas. He is a graduate of the Historical Performance Program at The Juilliard School where he studied harpsichord with Kenneth Weiss. He has also studied with Arthur Haas at the Yale School of Music. Elliot is an active member of several New York-based early music and contemporary ensembles, including Ruckus, ACRONYM, New York Baroque Incorporated, and New Vintage Baroque. He also works in frequent collaboration with BalletNext. Recent engagements include: Conductor and harpsichordist for the U.S. premiere of Chevalier de St-Georges' L'Amant Anonyme with Little Opera Theatre of New York; assistant conductor and harpsichordist for Vivaldi's Farnace, and for Cavalli's Veremonda, both with Spoleto Festival USA; and assistant conductor and harpsichordist for Dido and Aeneas with L.A. Opera.
A native of Cincinnati, Ohio, Stephen Goist enjoys a multifaceted career as a violist, violinist, and viola da gamba player. A graduate of The Juilliard School and University of Cincinnati's College-Conservatory of Music, Stephen has performed throughout the United States, Europe, India, and New Zealand. He is an active performer in New York City's early music community and has shared the stage with some of the world's leading early music ensembles, including The English Concert, Les Arts Florissants, Bach Collegium Japan, Philharmonia Baroque Orchestra, and The Handel and Haydn Society.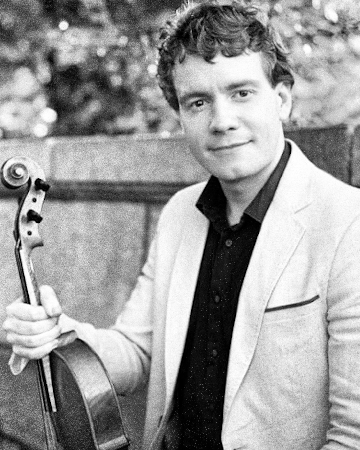 Dan McCarthy's playing has been described as "virtuosic" by Seen and Heard International. He was a part of the first class of baroque violists accepted into the historical performance program at The Juilliard School, and he enjoys a varied career that takes him everywhere from Myanmar to England. This past year, Dan has given over 100 performances and masterclasses. Recent highlights include a series of performances at the University of Georgia and working with violists and students of their resident baroque ensemble to better understand the differing styles and performance practices of Bach and Telemann.
Noted as a "compelling" guitarist and a "fine" lutenist by The New York Times, Arash Noori performs throughout North America and Europe on lutes and guitars as both recitalist and accompanist. Arash has appeared in performances with Les Arts Florissants, Early Music New York, Orchestra of St. Luke's, Piffaro: The Renaissance Band, Ars Lyrica, Opera Lafayette, the Folger Consort, Repast Baroque, the Sebastians, Academy of Sacred Drama, ARTEK, and NOVUS NY of Trinity Wall Street amongst others. Hailed for his "flair and sensitivity" in accompaniment (Opera News), Arash has accompanied operas at the Wiener Staatsoper, Gran Teatre del Liceu in Barcelona, the Kennedy Center in Washington, and Brooklyn Academy of Music and has performed at Carnegie Hall and Alice Tully Hall in New York, Philharmonie de Paris, Teatro Real in Madrid, and the Kimmel Center in Philadelphia. Arash has been a prize winner at several international competitions including Guitare Montréal and the Great Lakes Guitar Competition.
Parker Ramsay
harpsichord, organ, harp
Parker Ramsay's career is distinguished by its breadth and crossing of instrumental boundaries and genres at the harp, organ, and harpsichord. At age seventeen, Parker was awarded the organ scholarship at King's College, Cambridge, where he served under the direction of Stephen Cleobury. In addition to his work as a performer, he works as a staff writer for VAN Magazine (Berlin) and maintains his blog, Harping On: Thoughts from a Recovering Organist. He holds degrees from Cambridge University, Oberlin Conservatory, and The Juilliard School.
Joshua Stauffer is a restless creative who performs music from over four centuries on a variety of plucked instruments. He began his career as an electric guitarist performing jazz and improvised music, before transitioning to the classical guitar via contemporary works and chamber music. His diverse musical interests converged when he encountered the theorbo, a large lute which performs primarily basso continuo, or improvised accompaniment, in chamber and orchestral works from the 17th and early 18th centuries. He is a founding member and the executive director of Time Canvas, an ensemble dedicated to performing early music and new compositions on period instruments. Recent orchestral appearances include Shattered Glass, CityMusic Cleveland, and the Columbus Symphony, and he has performed as a guest artist at the University of Michigan, Notre Dame University, and Utah State University.
Arnie Tanimoto
viola da gamba
Gold medalist of the 7th International Bach-Abel Competition, Arnie Tanimoto is equally at home on the viola da gamba and baroque cello. He was the first-ever viola da gamba major at The Juilliard School, where he soloed on both instruments. Described by The New York Times as a "fine instrumental soloist," Arnie performs in venues across the United States, Europe, and Japan. The recipient of a 2017 Frank Huntington Beebe Fund Fellowship, he has also performed and recorded with Barthold Kuijken, the Boston Early Music Festival Ensemble, and the Smithsonian Consort of Viols. As a teacher, he serves on faculty at the Mountainside Baroque Summer Academy and maintains a private studio.
Adam Young identifies as a baroque and modern cellist, violist da gamba, ballet dancer, and pianist. His Masters degree is in viola da gamba, which he obtained under the direction of Sarah Cunningham at the Juilliard Shool. Adam works as a ballet accompanist for New York City Ballet, New York Theater Ballet, Ballet Academy East, and Steps on Braodway. He is a co-founder of Cello Street Quartet, a winning group of American Music Abroad and traveled to Eastern Europe and Russia, teaching and performing through a Federal-State Department-funded tour.