Who is this Mary Magdalene, also called Mary of Magdala? The answer is extremely convoluted. In Scripture she was an important follower of Jesus, present at the Crucifixion and sent by Jesus to proclaim the Resurrection to the apostles, who did not believe her. In the canonical gospels she is mentioned by name twelve times1—more than most of the apostles and more than any woman other than Jesus' mother. And all this notoriety in a society whose beliefs and language were entirely patriarchal!
The Western Church developed elaborate legends about her missionary travels to southern France, where she became a hermit.2 The Eastern Church styled her Equal to the Apostles and Apostle to the Apostles and never saw her as a fallen woman; for them, she is one of the seven Myrrh-Bearing Women who brought spices to the tomb and were the first witnesses of the Resurrection.3 As a powerful example of Eastern veneration for her, in the sixth century Patriarch Gregory of Antioch gave this as Jesus' message to Mary Magdalene: "Proclaim to my disciples the mysteries which you have seen. Become the first teacher of the teachers. Peter, who has denied me, must learn that I can also choose women as apostles."4
So what happened? How did she come to be portrayed as a repentant prostitute? The passing mention of Jesus casting out seven demons from her hardly equals a lurid past; the demons could just as well represent a physical illness.5
The trouble dates back to 591, when Pope St. Gregory I the Great gave a sermon conflating Mary Magdalene with Mary of Bethany and the unnamed "sinful woman" of Luke 7:36–50.6 In due course elaborate legends arose about this rich and beautiful prostitute who saw the error of her ways thanks to Jesus. Her tale paralleled that of St. Mary of Egypt, an actual sex worker turned hermit.7 It was an irresistible story declaring that even the worst sin can be forgiven. But it was also a tale that effectively neutralized a strong and faithful woman. Over time, a repentant Mary Magdalene became the foil for a sinless Virgin Mary, Mother of God, the pair covering the two extremes of female roles. Eventually, both pre- and post-repentance Magdalenes functioned as the excuse for erotic depictions of nudity under the guise of religion.
When in the sixteenth century some Protestants rejected Gregory's conflation as unbiblical, the Catholic Church clung to it all the more as an example of great repentance bringing great forgiveness.8 As Scripture scholarship advanced in the Protestant churches, eventually Catholic scholars began to admit that the Magdalene's reputation had been unjustly tarnished. Finally in 1969 the Vatican's new calendar of saints officially uncoupled the three women,9 and, in 2016, Pope Francis raised her feast to the rank of other apostles, providing new texts that imply acceptance of her historical title Apostle to the Apostles.10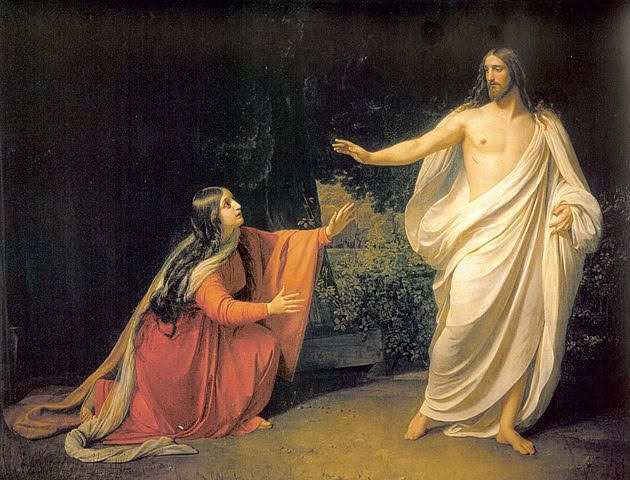 Though her story has been officially revised, this has yet to trickle down to the level of popular culture and devotion. It has, however, been embraced by various feminist causes.
Nevertheless, the story of a great sinner greatly repenting remains appealing—as does the tale of a strong and saintly woman shaping her own path in a world dominated by men. If only the two views could co-exist in some non-Euclidian universe, and one could choose whichever suited the moment.
Dr. Ann Plogsterth has a doctorate in art history from Columbia University and a lifelong obsession with religious iconography.
A Change of Heart The Academy of Sacred Drama will present a powerful Lenten reflection about the conversion of Mary Magdalene in March 2023. LEARN MORE
1 Mark 15:40,47, 16:1.9; Matthew 27:56,61, 28:1-10; Luke 8:1-3, 23:49,55, 24:1-11; John 19:25,39-42, 20:1-2,11-18. An accessible short overview of the Magdalene problem is Birger A. Pearson, "From Saint to Sinner," Bible Review, Spring 2005: (insert page range);and idem, Bible History Daily, Oct. 2011 & Sept. 2022: (insert page range), https://www.biblicalarchaeology.org/daily/people-cultures-in-the-bible/people-in-the-bible/was-mary-magdalene-wife-of-jesus-was-mary-magdalene-a-prostitute/. For more detail, see Jane Schaberg, The Resurrection of Mary Magdalene: Legends, Apocrypha, and the Christian Testament (New York: Continuum, 2002); and Esther de Boer, Mary Magdalene: Beyond the Myth (Harrisburg: Trinity Press International, 1997).
2 These tales were popularized in the Golden Legend, compiled by Bl. Jacobus de Voragine, o.p., around 1260, with many later expansions.
3 The other myrrhbearers: Mary and Martha of Bethany (Luke 10:38-42, John 11:1-6, 11:20-12:8), Joanna (Luke 8:3, 24:10), Susanna (Luke 8:3), Salome (Mark 15:40, 16:1), and Mary Cleophas (John 19:25).
Sometimes these women are identified with one or another of the seven myrrhbearers: Mary, mother of James the Less and Joses (Mark 15:40,47; 16:1; Matthew 27:56; Luke 24:10), "the other Mary" (Matthew 27:61; 28:1-9), the wife of Zebedee, mother of James and John (Matthew 20:20-28; 27:56), Jesus' mother's sister, if different from Mary Cleophas (John 19:25), anonymous sinful anointing woman (Luke 7:37-50), and anonymous "in memory of her" anointing woman (Mark 14:3-9; Matthew 26:6-13).
4 Quoted in P.-M. Guillaume, "Ste. Marie-Madeleine," in Dictionnaire de spiritualité, ascétique et mystique: Doctrine et histoire, ed. M. Viller et al., col. 565.
5 Luke 8:2 mentions her among "some women who had been cured of evil spirits and diseases," while Mark 16:9 specifies seven demons cast out of her. The many gospel accounts of healing do not distinguish between physical and mental disease. As to the Marcan reference, the earliest versions of that gospel end at 16:8; 16:9 is part of a later long ending which incorporates material from Luke. See De Boer, Mary Magdalene, pp. 48–55.
6 Homily XXXIII, in J.-P. Migne, Patrologiae cursus completus: Series latina, Vol. LXXVI, col. 1239; trans. David Hurst, Gregory the Great: Forty Gospel Homilies, 2009.
7 According to her sixth-century Vita, the fourth-century Mary lived a dissolute life in Alexandria until her conversion in Jerusalem, after which she became a desert hermit. Her story resembles that of many of the desert mothers, and her historicity is unclear.
8 Protestants denied both the intercession of saints and the sacrament of confession (though they certainly favored repentance). And the tension between Mary Magdalene and Peter suited Protestant rejection of the papacy and the hierarchy.
9 Calendarium Romanum, 1969, pp. 98, 131.
10 Holy See Press Office, "Mary Magdalene, Apostle of the Apostles," June 10, 2016; Holy See Press Office, "The Liturgical Memory of Mary Magdalene Becomes a Feast Like That of the Other Apostles," June 10, 2016, https://press.vatican.va/content/salastampa/en/bollettino/pubblico/2016/06/10/160610c.html; https://press.vatican.va/content/salastampa/en/bollettino/pubblico/2016/06/10/160610b.html.
Sacred Drama Journal No. 1 of Vol. III · CC BY-NC-ND license